Can the Gunners clinch another FA Cup?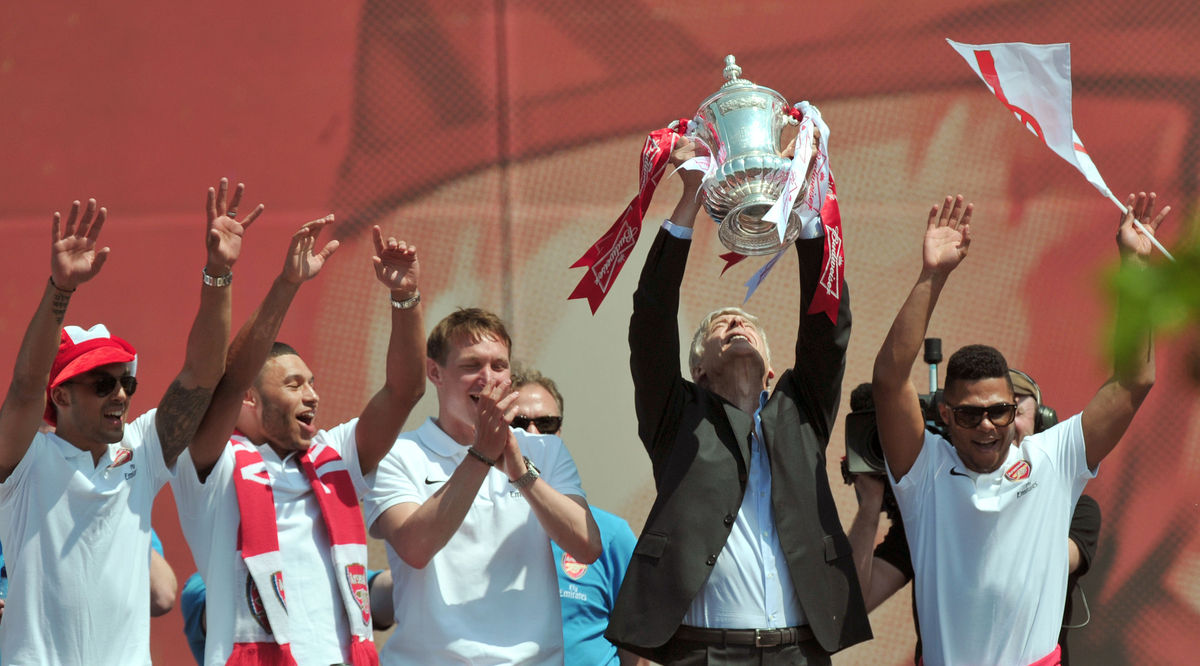 The last two FA Cup winning managers in charge of a side other than Arsenal left their respective clubs the following summer. The problem for the Gunners at Wembley is not so much that Arsene Wenger could be leaving, or indeed that he could be staying, but more that he is the only one who knows his future.
This uncertainty has contributed to the disunity at Arsenal, who have approached their last two cup final victories in more harmonious spirit. They won five games on the spin, conceding just the once, before overturning a two-goal deficit to beat Hull City 3-2 at Wembley in 13/14. The season after, they were the Premier League's form side prior to a 4-0 thumping of Aston Villa.
Both Hull and Villa narrowly avoided relegation in the year of their respective cup final appearances, so it is fair to say Arsenal face tougher opposition this time. Chelsea look likely to win the league title, just needing three wins to guarantee it and become the first team since Carlo Ancelotti's 09/10 champions to reach the 90-point mark.
Their two defeats over April at least give Arsenal room for hope, if not necessarily confidence, that they can secure victory as underdogs - 11/8 odds with Betway Sports (accurate as of 7th May) to win the competition. Marcus Rashford and Jesse Lingard, who have had less than outstanding campaigns, caused problems for the Blues with their mobility and intelligence.
Rashford found opportunities by momentarily dropping off to encourage David Luiz out of position, then spinning quickly into the space in behind. Alexis Sanchez in the right mood can provide similar qualities to Rashford off the ball and boasts a little more quality around the edge of the box, having netted 24 goals this term.
Alex Iwobi has not had as many goals and assists as the Chilean, but his teamwork, energy, sharp movement and quick shifting of the ball makes him akin to Lingard. Iwobi could play a part in creating space for Sanchez to thrive, as Lingard did for Rashford against the West Londoners.
Ander Herrera did a fine shadowing job on Eden Hazard, covering the Belgian's every move and forcing him to the periphery. Francis Coquelin tried to do the same thing in February's meeting but instead, when tracking Hazard's purposeful dribble, he fell on his back-side to allow his man to waltz through and score.
Granit Xhaka may be prone to going too far the other way, with 12 yellow cards and three reds this term, but Mohamed Elneny's lack of mobility makes him the best man to keep an eye on Hazard. Cutting the supply to the ex-Lille man will be Arsenal's main priority and the man providing that supply could be their former player.
Cesc Fabregas was well-respected by supporters after his move to boyhood club Barcelona, but some of that goodwill has been reduced by his transfer to the club's capital rivals in 2014. As of 4th May, the Spaniard has assisted in his last two appearances, taking his tally to 10 for the season.
The Wembley encounter could be Fabregas' last game for the club, with Liverpool and Manchester United reportedly willing to offer him regular football next year. First teamers N'Golo Kante and Nemanja Matic are also likely to be in contention for the two central midfield position's in a 3-4-3, so Antonio Conte must decide whether to swap their grit for Fabregas' guile.
Wenger may be tempted to match Chelsea up with the three-at-the-back system that has proved reasonably successful in recent games. Starting Nacho Monreal as a wide centre-back may be wise, considering his struggles against Victor Moses at left-back in the previous meeting. Shkodran Mustafi, who should be fit after injury problems last month but is vulnerable to pace, may also benefit from extra cover.
That is, cover in terms of vigilance as well as numbers. Arsenal had lots of players back in their defensive third at Tottenham last time out, but were beaten comfortably because they did not close down with the required bravery and organization. That will need to change if they are to have a chance of toppling over their other London rivals, who possess arguably the best team in England for many years.
Whether Arsenal's cup final message be to appease fans to have patience with their manager, or give him one last hurrah, it is in the team's interests for Wenger to speak now.
Tell us what you think! If you agree, or have a different view, please leave a comment in the comments section or why not write a response or your own article on YouWrite?

Think you know Arsenal? Test your Arsenal knowledge on our trivia page and see if you can beat the top score.

Don't forget to like us on Facebook, add us to your G+ circle and follow us on Twitter.
Follow us
Follow our podcast